LEASING AND MARKETING
VACANCY – The Single Most Dreaded Word for Rental Property Owners
That's because vacancy is a greater expense than repairs, maintenance and upgrades combined.
KRS Property Management will relieve you of the fear of vacancy, plus help you enjoy the benefits of secure cash flow, growing property value, minimized costs and increased profits.
You will be assigned a dedicated leasing agent, with a proven track-record, to exclusively secure qualified tenants for your rental property. Your occupancy rates will significantly exceed the market average … as will your rental revenue stream and profit margins.
YOU WIN – From our No Vacancy Marketing Strategy:
Here's how your occupancy quotient will surpass market expectations. The supporting platform is a five-planked, intensive marketing approach to fill your rental unit pipeline.
1. Ads
---
Your listing will be promoted to our thousands of existing tenants. Results: Exposure to a renter pool with a proven track record as quality tenants – Many move to another KRS managed property when their lease is up.
Results: Hundreds of new applications every month. The more applications, the better choice of quality tenants to decide from.
2. Existing Residents
---
We bombard rental websites such as Zillow & Trulia, as well as social media platforms with advertising for your property.
Results: A faster vacancy time with a tenant that has a proven track record of paying rent on time.
3. Power Open Houses
---
Sense-of-Urgency is the motivating theme. Multiple prospects are invited to review a property at the same time.
Results: Competition to lease is heightened to hasten applications and speed up tenant approval.
4. Signage
---
KRS Property Management places several hundred "For Rent" signs throughout the areas we service-prompting many phone calls to KRS leasing agents and property managers.
Results: Half of all callers rent a KRS property … if not the one they called about – another.
5. Group Think
---
Every week, KRS leasing agents brainstorm ideas to promote and succeed in filling rental vacancies.
Results: The goal of "No Vacancy" is advanced by concerted efforts to share and leverage each other's experiences, thoughts, and successes! An added plus is that your lifestyle will remain unaffected by the day-to-day needs of your rental property.
Residential real estate investors, whether contemplating your first purchase or as a seasoned landlord seeking to expand your portfolio, be sure to consider Raleigh, NC. As a property management company, we did the research and committed to serving landlords and renters in this market. Here's why you should consider doing so as well.
As the capital of North Carolina, Raleigh is a city of about 475,000 residents and touted as one of the fastest-growing cities in the country. Raleigh is one of the three "city-anchors" of the Research Triangle, sharing that designation along with Durham and the town of Chapel Hill. Respectively, these municipalities are the centers of three major research universities … North Carolina State , Duke, and University of North Carolina at Chapel Hill.
Raleigh's residential rental housing market has been a boon for investors. Residential real estate landlords currently enjoy median monthly rents of $1,146. This figure reflects a 3-year increase of 6.7 percent … coupled with an enviable vacancy rate of 5.6 percent. Additionally, 34 percent of all Raleigh households are renters which further underscores a stable pool of quality tenants.
As the city and state rebounds from the C-19 pandemic, unemployment rates continue a robust decline … at the end of last year, down 34 percent since mid-summer and now at 5.2 percent. Experts anticipate Raleigh to continue to emerge as a top rental market, due in part to the high-tech job opportunities in North Carolina's Research Triangle plus a diverse economy hosting a stable mixture of government, financial, education and manufacturing sectors. The median annual household income is $65,695 which further supports evidence of a strong job sector.
Additionally, a welcoming temperate climate plus access to a variety of outdoor activities along with social, cultural and educational offerings prove to be major attractions to retirees and millennials … two major sources of renters.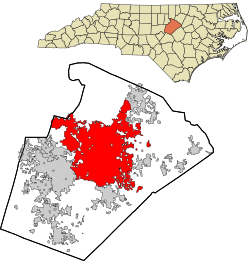 READ MORE +