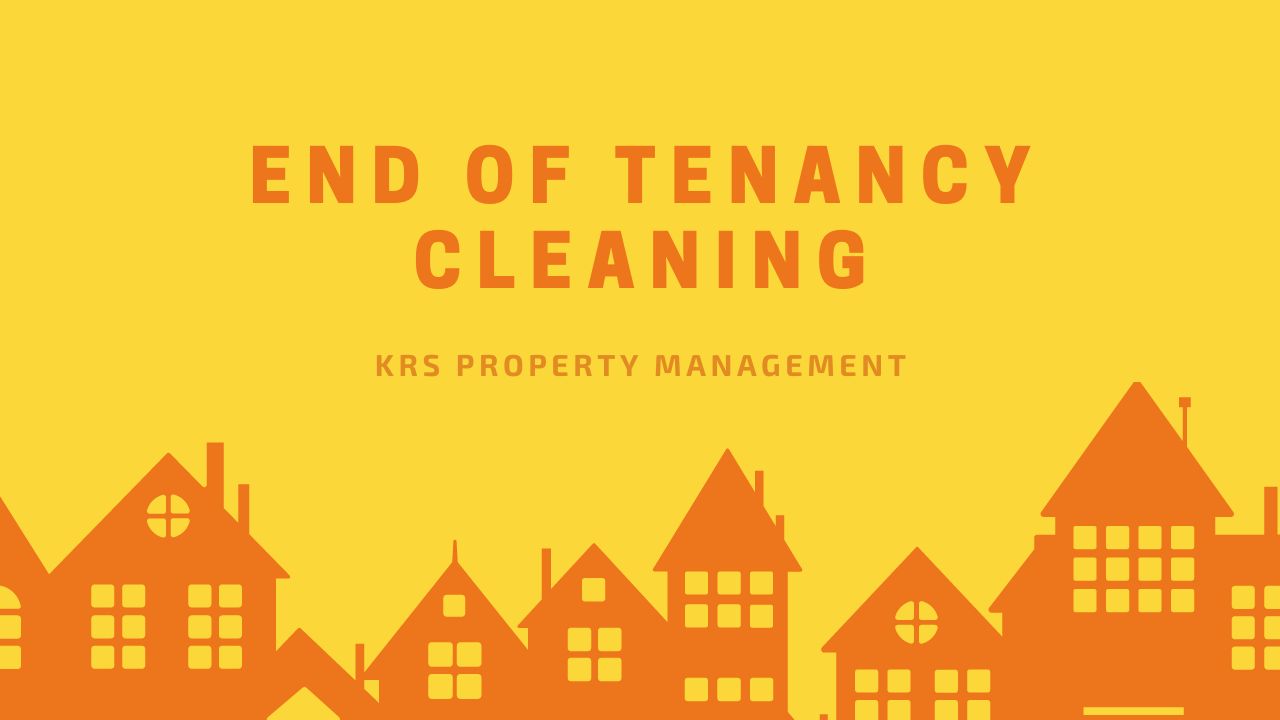 As a property owner, you know that a well-maintained and clean property is key to keeping happy tenants and attracting new ones. When it comes to the end of a tenancy, ensuring that the property is left in top condition is a legal requirement and an opportunity to start fresh with a new tenant.
That's where end-of-tenancy cleaning comes in. In this blog post, we at KRS Property Management will be discussing everything you need to know about the end of tenancy cleaning, including why it's important, what's involved in the process, and how you can ensure that your property is left sparkling for your next tenant.
What is the End of Tenancy Cleaning?
End-of-tenancy cleaning, also known as move-out cleaning, is a comprehensive and thorough cleaning process carried out when a tenant is about to vacate a rental property. It goes beyond regular cleaning routines and aims to restore the property to its original condition, ensuring it is clean, sanitized, and ready for the next tenant.
This type of cleaning covers every nook and cranny, from deep-cleaning carpets and upholstery to scrub kitchen appliances, bathrooms, and windows. The goal is to remove any traces of the previous tenant's occupancy and create a fresh canvas for the new tenant. End-of-tenancy cleaning is crucial for landlords to maintain their property's appeal, meet legal requirements, and ensure a smooth transition between tenancies.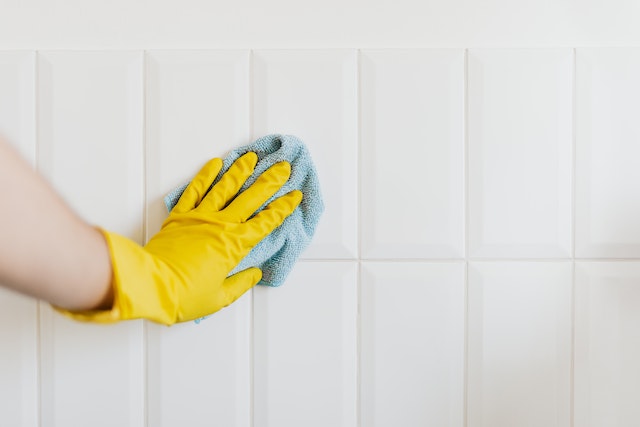 Cleaning Standard For End of Tenancy Cleaning
When it comes to end-of-tenancy cleaning, the standard of cleanliness is typically higher compared to regular cleaning. The objective is to leave the property in an immaculate condition that surpasses everyday cleanliness.
The level of cleanliness expected can vary depending on the landlord or property management requirements, but generally, it includes:
General Cleaning: Thoroughly dusting and wiping all surfaces, including skirting boards, light fixtures, and furniture. Removing cobwebs, cleaning mirrors, and vacuuming or mopping floors.
Kitchen: Deep-cleaning appliances, such as the oven, refrigerator, and microwave. Cleaning and sanitizing countertops, sinks, and cabinets. Wiping down tiles and removing grease or grime.
Bathrooms: Scrubbing and disinfecting toilets, sinks, showers, bathtubs, and tiles. Removing limescale and soap scum and cleaning mirrors, countertops, and cabinets.
Windows: Cleaning interior windows, frames, and sills to ensure they are streak-free and spotless.
Carpets and Upholstery: Thoroughly vacuuming and, if necessary, steam-cleaning carpets. Spot-cleaning any stains on upholstery.
Removing Trash: Ensuring all trash and unwanted items are properly disposed of or taken away.
Remember, the goal is to leave the property in a pristine condition, ready for the new tenant to move in without any concerns or cleaning tasks.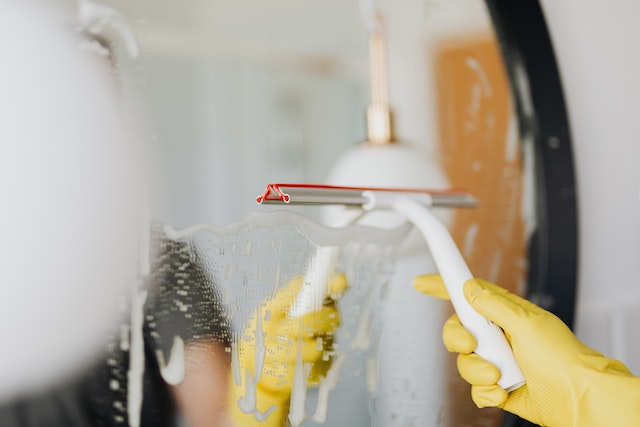 Tips To Make The Cleaning Process Easier
Here are some useful tips for landlords to make the end-of-tenancy cleaning process easier and more efficient:
Provide Clear Expectations: Clearly communicate your cleaning expectations to tenants in the lease agreement, making it easier for them to understand what is required upon moving out.
Conduct Periodic Inspections: Regularly inspect the property during the tenancy to address any maintenance or cleanliness issues promptly. This can help prevent the necessity of major cleaning tasks at the end of the tenancy.
Create a Checklist: Develop a comprehensive cleaning checklist outlining all areas and tasks that must be addressed during the end-of-tenancy cleaning. This will help both you and the tenants ensure that nothing is overlooked.
Hire Professional Cleaners: Consider hiring professional cleaning services specializing in end-of-tenancy cleaning. They have the equipment and experience to deliver thorough and efficient cleaning results.
Provide Cleaning Supplies: Ensure the property is stocked with essential cleaning supplies, such as detergents, sprays, mops, and vacuum cleaners. This encourages tenants to maintain cleanliness throughout their tenancy.
Schedule the Cleaning Strategically: Coordinate the end-of-tenancy cleaning to align with the move-out date of the previous tenant and the move-in date of the new tenant. This allows for sufficient time to clean and inspect the property thoroughly.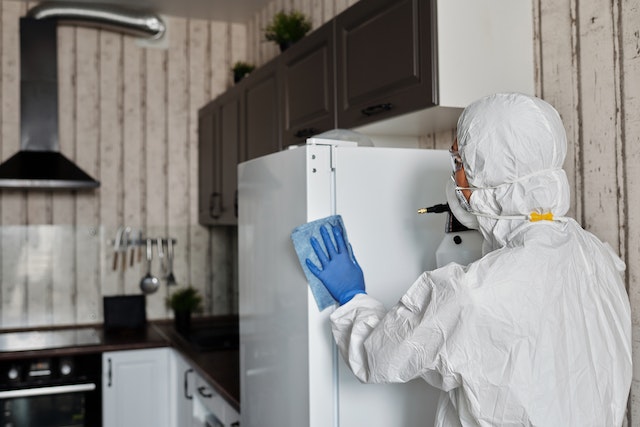 Quick Questions
Let's check out some important questions regarding end-of-tenancy cleaning:
Q. Is it legal for landlords to charge tenants for end-of-tenancy cleaning?
No, it is not allowed. As per the Tenant Fees Act 2019, landlords are prohibited from requesting tenants to arrange and bear the cost of professional cleaning at the conclusion of a tenancy.
Previously, landlords could include a clause in the tenancy agreement requiring a professional cleaning before the tenant's departure, but this is no longer permissible under the current regulations.
Q. Why should I hire a professional for end-of-tenancy cleaning?
Hiring a professional for end-of-tenancy cleaning ensures a thorough and efficient cleaning of the property, saving you time and effort. Professionals have the expertise, specialized equipment, and knowledge to tackle challenging tasks, leaving the property in pristine condition and maximizing your chances of attracting new tenants.
Q. Can I clean the property myself?
Yes, you can choose to clean the property yourself for end-of-tenancy cleaning. It's a cost-effective option if you have the time, skills, and willingness to handle the cleaning tasks involved.
However, keep in mind that end-of-tenancy cleaning requires thoroughness and attention to detail to meet the expected standards. Be prepared to invest the necessary time and effort to ensure that the property is cleaned to a high standard before the new tenant moves in.
Bottom Line
End-of-tenancy cleaning plays a crucial role in maintaining your property's appeal and ensuring a smooth transition between tenants. While you have the option to tackle the cleaning process yourself, it's worth considering the benefits of hiring a professional. Alternatively, you can work with a property management company like KRS Property Management.
With our expertise and dedicated team, we can take the burden off your shoulders, delivering impeccable results. Give your property the care it deserves by contacting KRS Property Management.